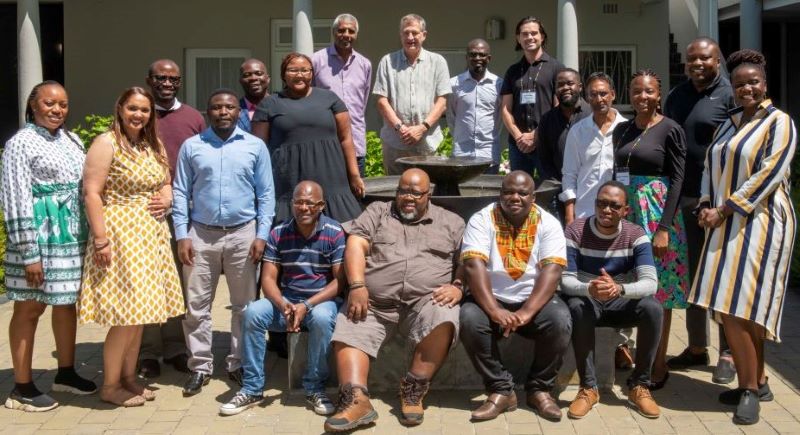 Inspire meaningful change with the Master of Development Policy and Practice
The Master of Development Policy and Practice (MDPP) is the Nelson Mandela School of Public Governance's flagship programme. Running since 2014, it equips leaders with the skills they need to inspire and create meaningful change for public good. This vibrant and multidisciplinary programme offers a unique perspective on leadership and caters for mid-career professionals working in the public sector, civil society, non-profit, and organisations who grapple with distinct challenges. The Nelson Mandela School actively targets broad African participation, aiming at 50% representation from beyond South Africa. We bring globally recognised faculty members to the classroom with a rich combination of research and practical experience at senior levels of policymaking and implementation. 
To provide greater flexibility for policy professionals and practitioners, the masters programme is offered as both a one-year programme and a two-year programme. Applicants can register for either programme based on specific needs and requirements.
What will I gain from this programme?
MDPP students will learn to:
Take a holistic view of development challenges, especially in the African context, based on specialist knowledge.
Enquire and make sound judgements in specialised contexts by using relevant methods, techniques, processes, and technologies.
Learn to draw on cutting edge comparative global and African continental knowledge and experience.
Recognise the difficult 'balancing acts' associated with development policy formulation and implementation (e.g. difficult technical and ethical choices and taking into consideration the needs and demands of competing stakeholders in particular contexts).
Design, implement and manage policy processes with a strong focus on communication and engagement with a range of audiences.
Develop their competencies as motivated, self-regulated, lifelong learners in today's technological age, who can devise their own learning strategies for sustained, independent learning, in both formal and informal learning contexts, for academic or professional development. 
MDPP Application Process 
 
Admission Requirements
Candidates must hold an Honours degree or NQF level 8 equivalent.  Candidates must have at least five years' professional experience, preferably in the public sector.
Admission is highly selective, based principally on track record, achievements in the public service or civil society, and demonstrated potential, with an acceptable baseline of academic performance. Classes are capped at 25 students annually.
Preference will be given to public officials. Civil society leaders, managers in international organisations, and others interested in the practice of public policy are also encouraged to apply.
How to apply
Apply online via the UCT application portal.
Please keep the following documents nearby as you will be asked to upload these during the application process:
Current CV with referee details
Certified academic transcripts
A letter motivating your participation in the class (please indicate in your letter of motivation where you heard about our Master's programme)
You will also need to courier the original certified academic transcripts to:
The Admissions Office
University of Cape Town
 c/o Bremner Building Lower Campus
Rondebosch
7701
South Africa
Should you experience any difficulties with your application please contact the Admissions Office: Email: admissions-pg@uct.ac.za
Tel: 021 650 2128
Physical address
The Admissions Office, University of Cape Town, Level 4, Masingene Building
 Middle Campus
 Rondebosch
 Cape Town
 South Africa 
Programme Structure
The programme consists of six substantive courses and one research course, plus the research project.
Duration
One Year: The one-year programme comprises four quarters of six weeks each spread across the 12 months, with coursework seminars in the evenings.
Two Years: The two-year programme comprises four intensive two-week contact sessions spread six months apart over 24 months.
 
YEAR 1
1. Strategic Policy for Development: analysis and practice 

This course aims to equip participants with knowledge and tools to identify, design and build support for priority development policies. The course will: • Provide a comparative overview of different approaches to development policymaking across countries and over time, • Explore ways to identify a 'good fit' between policy design and a country's economic, political, and social context and institutions. • Introduce and apply tools that can help build momentum for policy change by engaging multiple government and non-governmental stakeholders in the policy formulation process. • Anchor the learning in case studies, with an emphasis on South African, and other African, examples; and • Provide a practical bridge between priority policy objectives in the participant's place of work and the knowledge and tools explored in the course. • Provide participants with methodological tools to evaluate current knowledge and data and facilitate the making of sound judgements on policy and implementation.

  

 2. Policy Implementation and the Regulation of Markets 
  

 

This course aims to equip students with knowledge and tools to move from broad policy goals and strategies to the details of design and implementation that are key to development effectiveness. The course will: • Survey the multiple management functions that need to be addressed within the public sector (including budget planning; management of public expenditure and administration; procurement; parastatal governance); • Diagnose the strengths and weaknesses of public bureaucracies as instruments of implementing public policy. • Examine the potential of a variety of tools to enhance the transparency, accountability, and effectiveness of public bureaucracies. • Anchor the learning in case studies, with an emphasis on South African, and other African, examples; and • Provide a practical bridge between priority policy implementation challenges in their places of work and the knowledge and tools explored in the course. • Review key economic concepts, with a focus on their relevance for policymaking, and the governance of markets. • Explore the role and challenges of market regulation (e.g., utility regulation, environmental regulation, competition policy), with a focus on how economic reasoning can help guide regulatory design. • Provide continuing instruction in methodological tools to evaluate current knowledge and data and facilitate the making of sound judgements on policy and implementation.

  

  

The public service is a turbulent and complex space demanding high levels of emotional intelligence, resilience, critical judgment, and strategic leadership. Public managers operate in a world of volatility, uncertainty, complexity, and ambiguity (VUCA) that challenge and frustrate them in developing and implementing public policy. In this transforming landscape, as illustrated by the COVID-19 pandemic, public leaders are expected to lead in strategic, adaptable, innovative, and compassionate ways. This immersive and interactive course places emphasis on theory and practice related to public leadership, emotional and social intelligence, neuro-leadership, integral theory, Gestalt psychology, mindfulness, among others, drawing on Western and Eastern schools of knowledge, within the transformative realms of the personal, inter-personal and institutional. This course aims to equip students with skills, knowledge, personal insights, inter-personal capabilities, and practices to expand their consciousness and enhance their effectiveness as leaders in the public and development sectors and civil society. Participants are supported to heighten their self- and social awareness towards achieving their personal growth plan and directing their personal agency toward orchestrating change for public good.  

4. Topics in African Economic Development

This course will help students navigate the challenges presented by an adverse global context and emerging megatrends when pursuing structural transformation. It will assess the opportunities offered by regional dimensions, modern-day industrialisation pitfalls and innovative sources of financing. Africa undoubtedly has great potential, so too is the size of the challenge that African leaders face as countries prepare to take their place in the future global economy. They must transform their economies in the context of a harsh global climate, where patterns of industrialisation have changed, characterised by an unfriendly trade environment, complex intellectual property rights, circumscribed policy space, and fractured internal structures. Case studies and in-depth analysis of uneven efforts at structural transformation will help illustrate the complexity of policy making. 

5. Research Design and Qualitative Methods

The course will provide students with the foundational knowledge, skills and orientation to help them prepare for their thesis proposals and thesis research activity and writing. This course introduces students to the fundamental concepts and principles of research design and methods for application in their thesis research. It begins with an introduction to the philosopies of contemporary research paradigms and proceeds to learning the key methods of data collection, analysis and writng of qualitative research. Also included is a focus on ethics and values in research, and issues related to conducting research in institutional contexts. 
YEAR 2
1. Discourses in Development Policy in Africa 

This course aims to provide students with the capacity to critically examine and evaluate development policies in Africa. Key subject areas include discourses in trade policies of South Africa and the African continent, including regional integration, bilateral relations, global governance, and the climate-development nexus in Africa. The subject areas will enable students to engage and participate in discourses on the challenges of African public institutions, and development policy formulation and implementation, with a primary focus on trade strategy formulation and negotiations at a bilateral, regional, or multilateral level, and a secondary focus on the political economy of climate change, just transition, and the green economy, among other topical discourses.

  

 2. Ethical Leadership and Public Accountability 
  

 

The course will reflect on the ongoing management and leadership challenges and experiences of students by exploring in-depth specific challenges of leading within the public sector. Using the case method, a key focus of the immersive and interactive learning is on exploring examples of ethical leadership and public accountability. Drawing on a rich variety of ethical traditions and concrete examples, the course focuses on ethical awareness, ethical blindness, and ethical decision-making, including a focus on professional moral courage and whistleblowing. The interaction between individual and institutional integrity is examined in the light of a critical evaluation of current international, theoretical and policy efforts to analyse and counter corruption and abuses of public power. The goals of the course are 1) to enable students to demonstrate a clear understanding of the concepts and theories in the leadership and accountability field; and 2) that students are able to apply, evaluate and integrate relevant theories of governance and anti-corruption in their specific context.

  

  

3. Research Design and Proposal Development

The course is designed to equip students to carry out successful research for their research project. It builds on the previous courses focussing on research design and methodology for qualitative, quantitative and mixed methods research. This course will emphasize the development of the topic and research question to structure the design, execution, and completion of research project. The course will also cover issues of ethics, research reporting and academic writing, and plagiarism. Teaching during the course will be through seminars, workshops, and individual supervision, working towards the submission of a completed research proposal. 

This is the final phase of the Masters programme, in which the participant submits a research project written up in the form of a long paper up to 15 000 words. The research project should demonstrate the participant's ability to apply the material covered in the Masters programme to a concrete development problem. It is desirable, though not required, that the research project address a development problem linked to the participants' work experience. 
WHAT OUR MDPP STUDENTS SAY
Meet some of our students from across the African continent and hear what they say about our flagship Master's Degree in Development Policy and Practice.