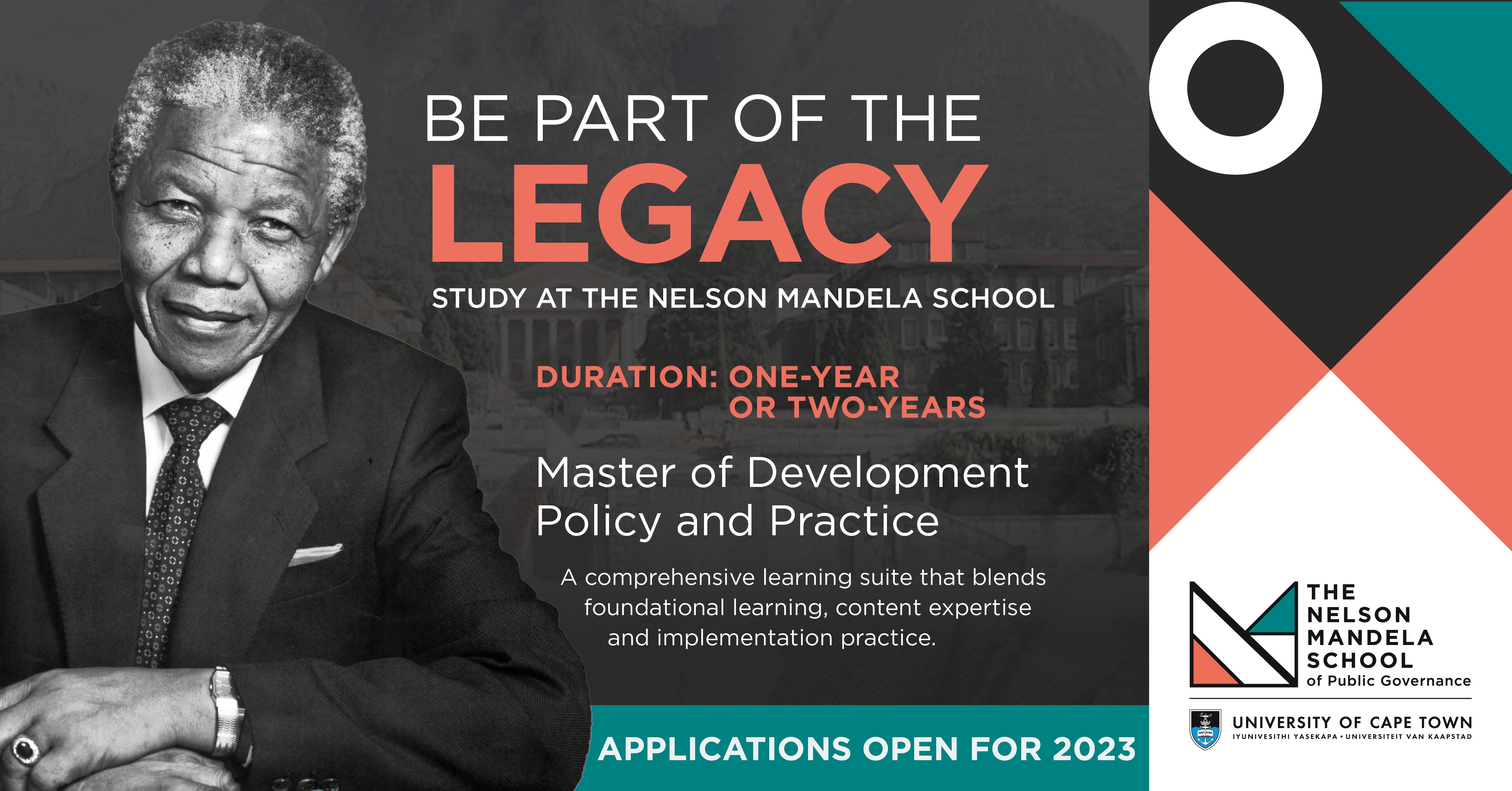 Inspire meaningful change with the Master of Development Policy and Practice
The Master of Development Policy and Practice (MDPP) is the Nelson Mandela School of Public Governance's flagship programme. Running since 2014, it equips leaders with the skills they need to inspire and create meaningful change for public good. This vibrant and multicultural programme offers a unique perspective on leadership and caters for senior officials working in the public sector, civil society or international organisations, who grapple with distinct challenges. The Mandela School actively targets broad African participation, aiming at 50% representation from beyond South Africa and brings globally recognised faculty to the classroom with a rich combination of research and practical experience at senior levels of policy-making and implementation.  
What will I gain from this programme?
MDPP students will learn to:
Take a holistic view of development challenges, especially in the African context, based on specialist knowledge.
Enquire and make sound judgements in specialised contexts by using relevant methods, techniques, processes, and technologies.
Learn to draw on cutting edge comparative global and African continental knowledge and experience.
Recognise the difficult 'balancing acts' associated with development policy formulation and implementation (e.g. difficult technical and ethical choices and taking into consideration the needs and demands of competing stakeholders in particular contexts).
Design, implement and manage policy processes with a strong focus on communication and engagement with a range of audiences.
Develop their competencies as motivated, self-regulated, lifelong learners in today's technological age, who can devise their own learning strategies for sustained, independent learning, in both formal and informal learning contexts, for academic or professional development. 
MDPP Application Process 
 
Admission Requirements
Candidates must hold an Honours degree or NQF level 8 equivalent.  Candidates must have at least five years' professional experience, preferably in the public sector.
Admission is highly selective, based principally on track record, achievements in the public service (or civil society), and demonstrated potential, with an acceptable baseline of academic performance. Classes are capped at 25 students annually.
Preference will be given to senior public officials. Senior civil society leaders, managers in international organisations, and others interested in the practicalities of public policy are also encouraged to apply.
How to apply
Apply online via the UCT application portal.
Please keep the following documents nearby as you will be asked to upload these during the application process:
current CV with referee details
certified academic transcripts
a letter motivating your participation in the class (please indicate in your letter of motivation where you heard about our Master's)
You will also need to courier the original certified academic transcripts to:
The Admissions Office
University of Cape Town
 c/o Bremner Building Lower Campus
Rondebosch
7701
South Africa
Should you experience any difficulties with your application please contact the Admissions Office: Email: admissions-pg@uct.ac.za
Tel: 021 650 2128
Physical address
The Admissions Office, University of Cape Town, Level 4, Masingene Building
 Middle Campus
 Rondebosch
 Cape Town
 South Africa 
Curriculum
The MDPP is offered on a part-time basis with four two-week intensive blocks in Cape Town over a period of two years.
Each semester is divided into two segments: an intensive, face-to-face 16-day 'block release' and a remote learning component. Candidates are supported by the Mandela School faculty during the remote learning and block release periods to work on assignments designed to draw on perspectives and tools explored during the teaching intensive and address real challenges in students' work settings.
The degree is completed by coursework and dissertation and consists of seven semester-long courses and one research project.
First year courses
Strategic policymaking for development: analysis and practice 

The objectives of this course are:

 To provide an orienting framework for achieving better development results by aligning policy choices and approaches to implementation with political and institutional realities; and
 To provide an opportunity to apply the framework in addressing concrete development challenges of direct relevance to the work environments of participants. 

Study of development reveals a wide range of proposals for economic and political reform, and an equally wide range of political and economic constraints to reform. But the challenge confronting development practitioners is neither to decide which measures are optimal (the optimal is rarely implementable), nor to explain why action is not feasible. The aim is to find a tractable and promising way forward, given country-specific, sector-specific, and locale-specific institutional and political realities. This, in turn, implies beginning with an effort to better understand why things are the way they are, and how to feasibly move forward given these realities – rather than having a pre-occupation with unachievable 'shoulds'.

An important focus will be on how the public sector sets policy and delivers services. Strengthening public management has been at the forefront of the development agenda for the past fifteen years – but much of the existing public management literature has been developed by academics and practitioners in developed countries and focuses on developed country experiences (indeed, often on idealized versions of that experience). The challenge is to take what we know in theory about public management and apply it in ways that will be useful to achieving development results in settings where public sector performance is uneven. Rather than seeking 'best practices', the focus will be on how to identify a 'good fit', including what might be the appropriate balance across different settings between hierarchical and multi-stakeholder approaches to policymaking, service provision, and accountability for performance.
  

2.  Policy implementation and the regulation of markets
  

This course aims to equip students with knowledge and tools to move from broad policy goals and strategies to the details of design and implementation that are key to development effectiveness.

The course will:

management of public expenditure and administration; procurement; parastatal governance);
Diagnose the strengths and weaknesses of public bureaucracies as instruments of implementing public policy;
Examine the potential of a variety of tools to enhance the transparency, accountability, and effectiveness of public bureaucracies;
Anchor the learning in case studies, with an emphasis on South African, and other African, examples;
Provide a practical bridge between priority policy implementation challenges in their places of work and the knowledge and tools explored in the course;
Review key economic concepts, with a focus on their relevance for policymaking, and the governance of markets;
Explore the role and challenges of market regulation (e.g. utility regulation, environmental regulation, competition policy), with a focus on how economic reasoning can help guide regulatory design; and
Provide continuing instruction in methodological tools to evaluate current knowledge and data and facilitate the making of sound judgements on policy and implementation.

  

This immersive and interactive course emphasises theory and practice related to emotional and social intelligence, neuro-leadership, integral theory, and mindfulness.  The course aims to equip students with skills, personal insight and inter-personal capabilities to enhance their effectiveness as leaders – within their organizations, across government, and at the interfaces between government, citizens, the private sector and civil society. Participants are supported to heighten their self- and social awareness towards achieving their personal growth plan and directing their personal agency toward orchestrating change for public good.
 

The course will also probe the ethical dimensions of leadership within government, including analysis and reflection as to the compulsory ethical principles which should guide public service, as well as ways to deal with complex ethical dilemmas. Further, the course provides a practical bridge between the leadership skills developed in the course, and the day-to-day leadership, inter-personal and ethical challenges that arise in the participant's place of work.
  

4. Economic Development in Africa 

The purpose of this module is to help participants to engage with the major concepts used in the analysis of economic development in Africa, to understand some key analytical tools and information sources, and to become familiar with some of the more important recent contributions to thinking about economic development that are relevant to Africa. 

5. Research Design and Methods 

This course prepares students for their thesis work by introducing them to the fundamental principles of research design and methodology in qualitative, quantitative and mixed methods research. It covers the following core areas: the philosophies of the major research paradigms, ethics, values and virtues in contemporary research, conducting research in institutional contexts, research design and current methods of data collection, and data analysis and report writing. 
Second year courses
The course will reflect on the ongoing management and leadership challenges and experiences of the students, by exploring in-depth specific challenges of leading within the public sector, including:

The ways in which different conceptual approaches to public management (including results based on New Public Management, and Weberian bureaucratic reform initiatives) have played out in practice in different country settings:
The influence of historical legacies on the operation and reform of public sectors.
The potential as a management tool of a continuous evaluation cycle in problem diagnosis, policy design, monitoring, and impact evaluation.
Using the case method, a key focus of the immersive and interactive learning is on exploring ethical leadership and public accountability.

Drawing on a rich variety of ethical traditions and concrete examples, the course focuses on ethical awareness, ethical blindness and ethical decision-making, including whistleblowing. The emerging theoretical focus on the interaction between individual and institutional integrity, is examined in the light of a critical evaluation of current international efforts to counter corruption.
  

  

 

This course aims to equip students with knowledge and tools in specialized areas of relevance to development policy for public sector and civil society leaders. Three to four key subject areas will be introduced to students by leading experts in each area. Subject areas include social policy issues related to social protection and poverty reduction in contemporary Africa; the climate-development nexus in Africa; gender and development in Africa; and urbanization in Africa.

Each subject area will be customized to enhance its direct relevance to the challenges of policy formulation and implementation. 

  

  

3. Research Design and Proposal Development

The course is designed to equip students to carry out successful research for their research project. It will emphasize the development of the topic and research question to structure the design, execution and completion of the research project. The course will also cover issues of ethics, research reporting and academic writing, and plagiarism. Teaching during the course will be through seminars, workshops and individual supervision, working towards the submission of a completed research proposal. 

  

This is the final phase of the Master's programme, in which the participant submits a research project written up in the form of a long paper of 15-20,000 words. The research project should demonstrate the participant's ability to apply the material covered in the Master's programme to a concrete development problem. It is desirable, though not required, that the research project address a development problem linked to the participant's work experience. 
MEET THE FACULTY MEMBERS
Dr Shanil Haricharan is the Programme Convenor and Academic Director at the Nelson Mandela School of Public Governance. For the past five years and currently, he lectures on public leadership and organisational behaviour on the Master's programme at the Mandela School. He completed a PhD at the University of Stellenbosch, in 2015, titled: "The impact of emotional intelligence on public leadership performance in South Africa." He received a BSc (Medical/Life Sciences) at the University of the Witwatersrand, an Advanced University Diploma in Adult Education at the University of Natal, and an MBA at the University of Cape Town. He has a diverse professional work experience for over 25 years in the public sector as a senior manager, advisor, coach and consultant in the fields of public policy, development planning, institutional transformation, management and leadership development, knowledge management and research.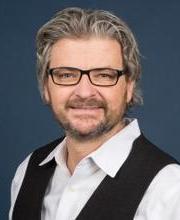 Professor Matt Andrews is a professor of Public Policy at Harvard Kennedy School. His research focuses on public sector reform, particularly budgeting and financial management reform, and participatory governance in developing and transitional governments. Recent articles focus on forging a theoretical understanding of the nontechnical factors influencing success in reform processes. Specific emphasis lies on the informal institutional context of reform, as well as leadership structures within government-wide networks. This research developed out of his work in the provincial government of Kwa-Zulu Natal in South Africa and more recently from his tenure as a Public Sector Specialist working in the Europe and Central Asia Region of the World Bank. He brings this experience to courses on public management and development. He holds a BCom (Hons) degree from the University of Natal, Durban (South Africa), an MSc from the University of London, and a PhD in Public Administration from the Maxwell School, Syracuse University.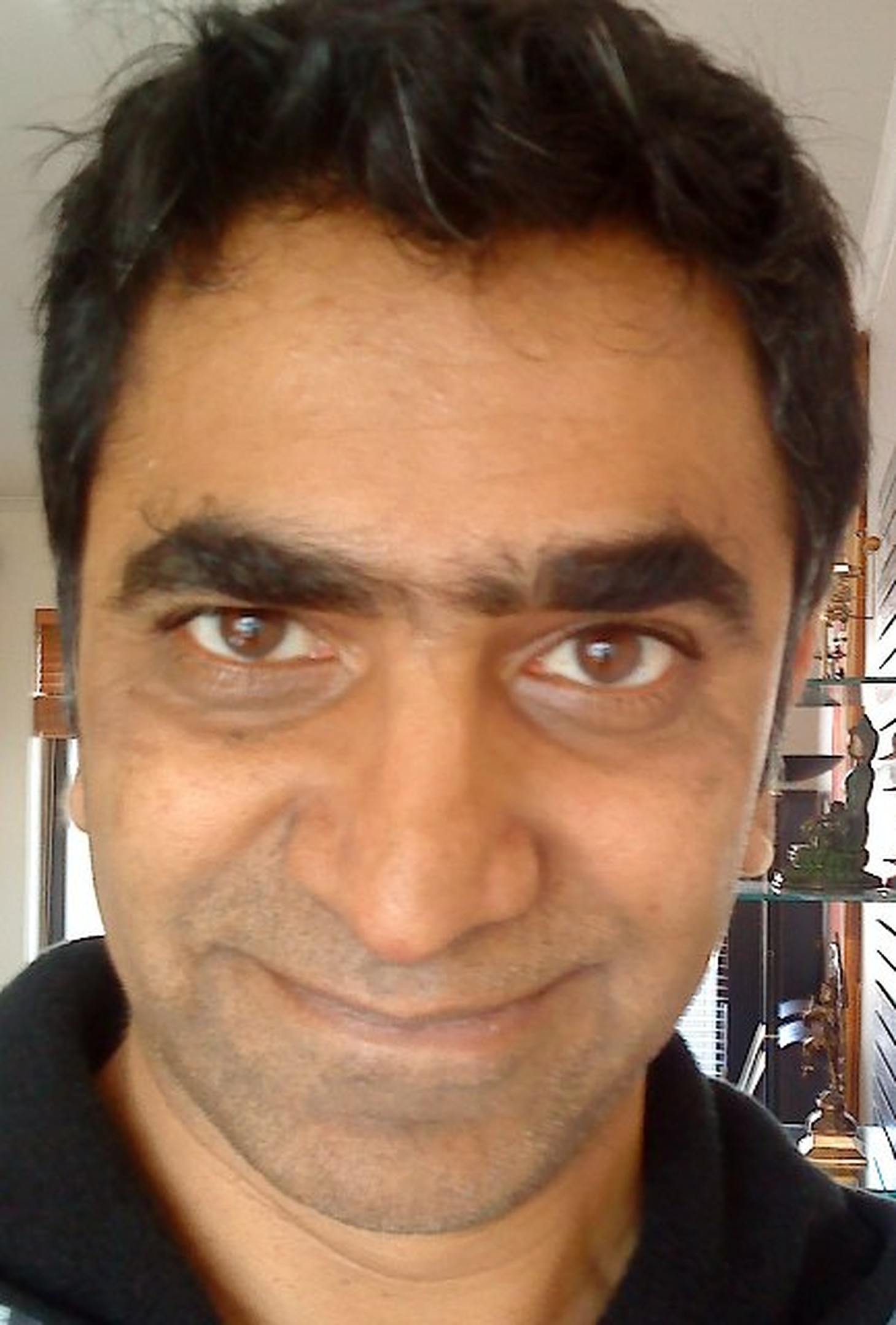 Professor Rajen Govender is an independent researcher, academic and consultant with 35 years of teaching and management experience in the university sector and over 20 years of experience consulting to institutions in the public, civil society, private and international development/donor sectors. His primary competencies are in research design and methodology (experimental, quantitative and qualitative), and complex multivariate modelling. His research portfolio covers public health, substance use, burn and traffic injuries, social justice, anti-discrimination, reconciliation, and development policy and practice. He has worked in diverse countries in Africa, Middle East and Asia, has published over 35 peer-reviewed journal articles, co-edited the volume Rethinking Reconciliation: Evidence from South Africa, and authored over 80 commissioned reports and briefs. He currently divides his time at UCT between the Nelson Mandela School of Public Governance and the Department of Sociology, is Senior Research Specialist at the Violence Injury and Peace Research Unit (VIPRU) at the SA Medical Research Council, and Senior Research Fellow at the Institute for Justice and Reconciliation.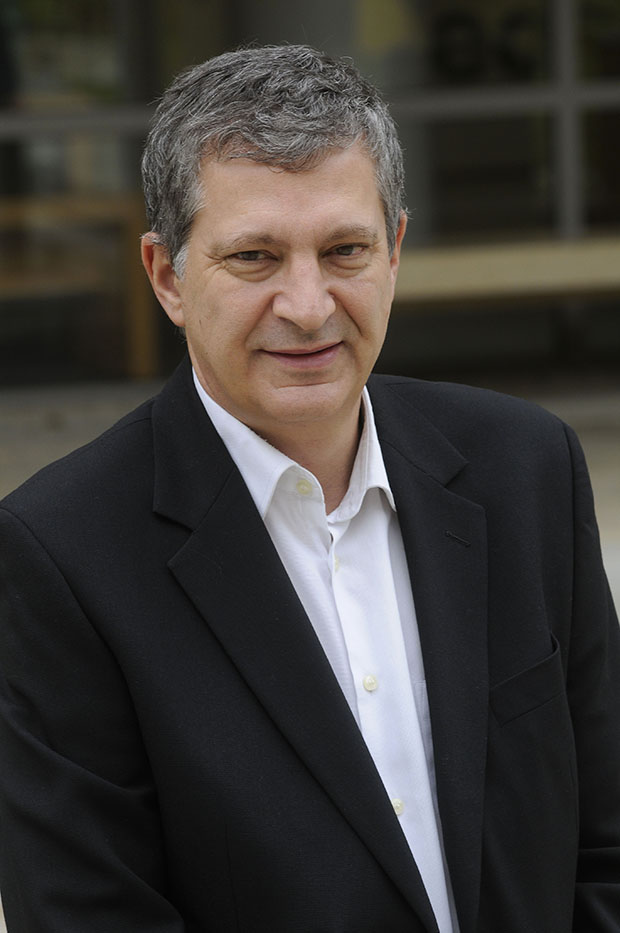 Professor Alan Hirsch is Professor of Development Policy and Practice at The Nelson Mandela School of Public Governance at UCT and was its founding director from 2011 to 2019. Born in Cape Town he is educated in Economics and History at UCT, Wits and Columbia. He taught at UCT, and then joined the South African Department of Trade and Industry in 1995. From 2002 to 2012 he managed economic policy in the South African Presidency, represented the Presidency in the G20, and was co-chair of the G20 Development Working Group. He serves on several boards including the European Centre for Development Policy Management and is a member of President Cyril Ramaphosa's Presidential Economic Advisory Council. He is currently visiting the South African Institute for International Affairs as a Bradlow Fellow. He was visiting scholar at the Harvard Business School, a regular visiting professor at Maastricht University, directed the International Growth Centre's research in Zambia, and was a member of the OECD secretary-general's Inclusive Growth Advisory Panel. He writes about economic development issues, including Season of Hope - Economic Reform under Mandela and Mbeki and The Oxford Companion to South African Economics.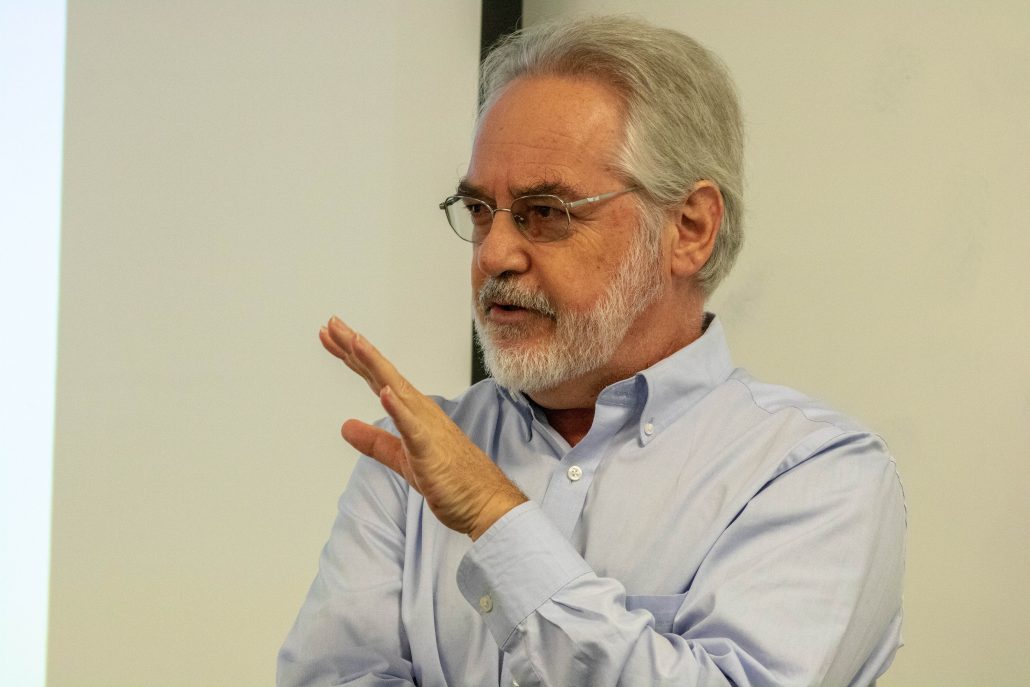 Professor Brian Levy is a professor at the Mandela School. He also teaches at the School of Advanced International Studies, Johns Hopkins University in Washington DC. He worked at the World Bank from 1989 to 2012, including as manager of the Africa Vice Presidency Public Sector Reform and Capacity Building Unit, and as head of the secretariat responsible for the design and implementation of the World Bank Group's governance and anti-corruption strategy. He has published widely on the interactions among institutions, political economy and development policy. His most recent book is Working with the Grain: Integrating Governance and Growth in Development Strategies (Oxford U Press, 2014; info at www.workingwiththegrain.com.) He completed his Ph.D in economics at Harvard University in 1983.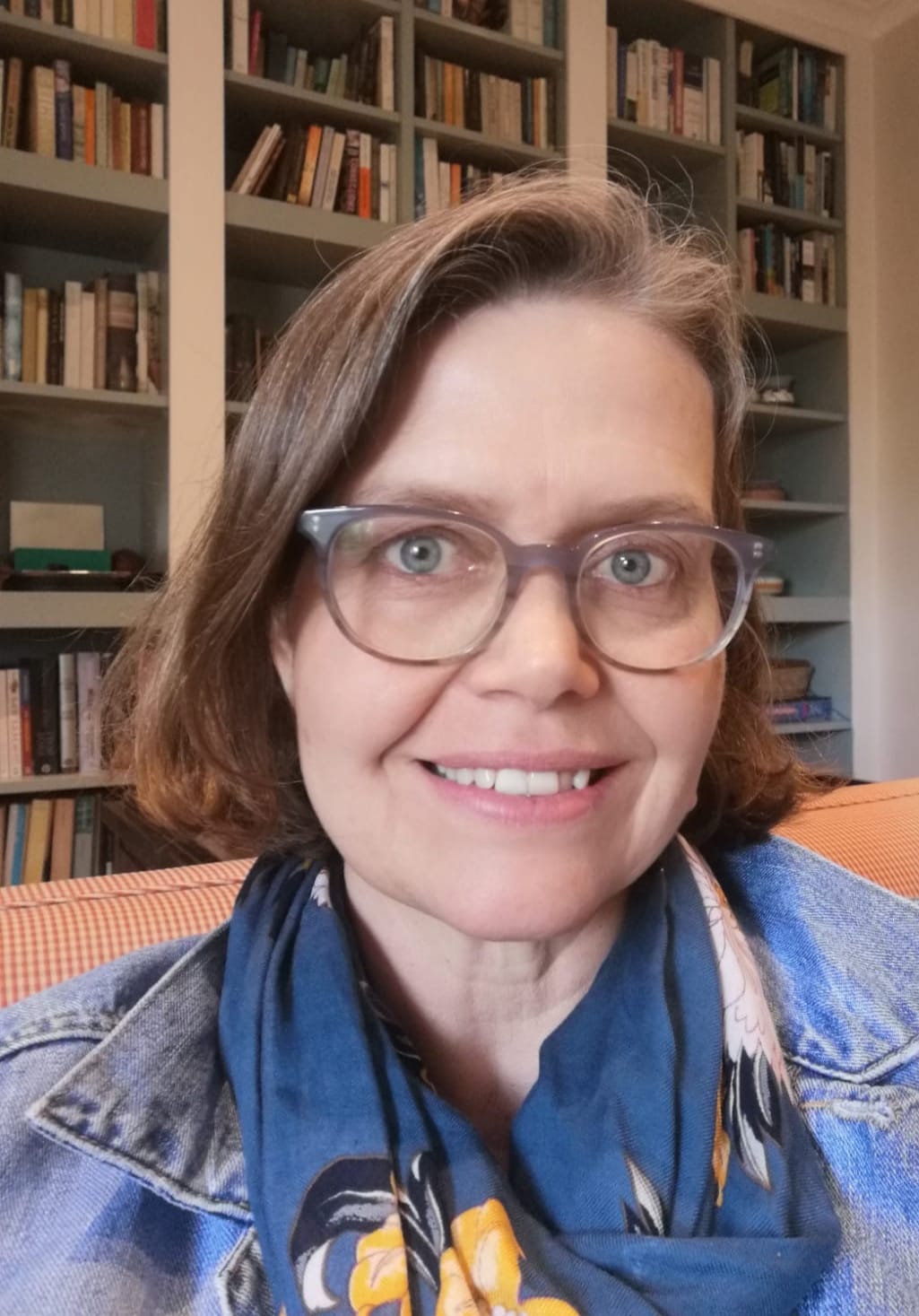 Dr Marianne Camerer is a senior lecturer at the Mandela School, where her teaching and research interests focus on ethics, leadership, anti-corruption and democratic accountability. From 2014-2019 she led the Building Bridges leadership development platform and initiated the Emerging African Leaders Programme (EALP) which now has over 100 alumni from ten African countries. She works with a team of facilitators to develop innovative executive training for senior public officials in Africa, with a particular focus on ethics and accountability. Prior to joining UCT, Marianne co-founded the international anti-corruption NGO Global Integrity and headed anti-corruption research at the Institute for Security Studies (ISS). Marianne qualified as an integral coach through UCT's Centre for Coaching at the Graduate School of Business. She currently serves on the advisory board of the Centre for the Advancement of Public Integrity (CAPI) at Columbia Law School. Marianne holds master's degrees in public policy and political philosophy from Oxford and the University of Stellenbosch. Her Ph.D. in Political Studies, from the University of Witwatersrand, focused on "Corruption and Reform in Democratic South Africa".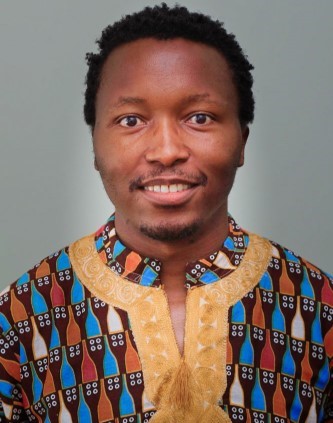 Mr Musa Nxele is a lecturer at the Mandela School, where he convenes master's courses and research related to political economy of development. He is doing a joint PhD in Economics and  Development Policy and Practice at Université de Paris 1 Panthéon-Sorbonne and UCT, respectively. He also holds master's degrees from both universities, in economic development and globalisation. Before moving to tertiary education teaching at Rhodes University in 2017, Musa worked in the private sector in the fields of investment banking and industrial development consulting. He dedicates his life to the transformation of people and societies; driven by hope, and the incredible story of his hometown,Soweto.
In addition to the above faculty members, the programme invites a wide range of specialist guest lectures such as Dr Ian Goldman, Professor Jeremy Seekings, Dr Cecil Madell, Salim Fakir, Dr Yaliwe Clarke.
WHAT OUR MDPP STUDENTS SAY
Meet some of our students from across the African continent and hear what they say about our innovative part-time Master's Degree in Development Policy and Practice.
"I have learned quite a lot from this programme that I am going to take away and try to implement in my day-to-day life. It is a rich programme, I especially liked the international outlook, I got an opportunity to interact with a wide network of diverse participants from different countries and to learn from their cultures. And it also brought a multicultural perspective in terms of staff, the lecturers being from different backgrounds and quite rich in terms of experience. The leadership course was striking for me because it was a different perspective from all the leadership programmes that I have attended. I can safely say, now I am a better leader than when I joined the programme."
Authur Masuka (Zimbabwe), Project Manager for Agriculture Markets Development – Netherland Development Organisation (SNV)
"It's really equipped me with the tools to do the problem analysis better and I've also built some powerful networks while I've been here from the group we are working with but also networks in terms of having access to the experts who are resource persons in the programme…"
Masego Madzwamuse (Botswana), CEO – Southern Africa Trust
"The skills that you learn here, you can take forward and improve the public service. The fact that we have a diverse class from South Africa and other regions in Africa, has broadened my horizons as well. And the lecturers, they are also very diverse and each one brings their own experience and skills into the programme, they are professional. However, we are also treated professionally, we are not only students in the programme, we are also professionals in our own right. And what I enjoyed about the course is they recognised our professionalism and they tried to focus on each of our individual interests and focus areas and tried to hone those skills so that you can be improved as an individual both generally and specifically."
Sumaya Behardien (South Africa), Senior Legal Advisor - South African Medical Research Council (SAMRC)