A school for the next generation of Africa's ethical leaders!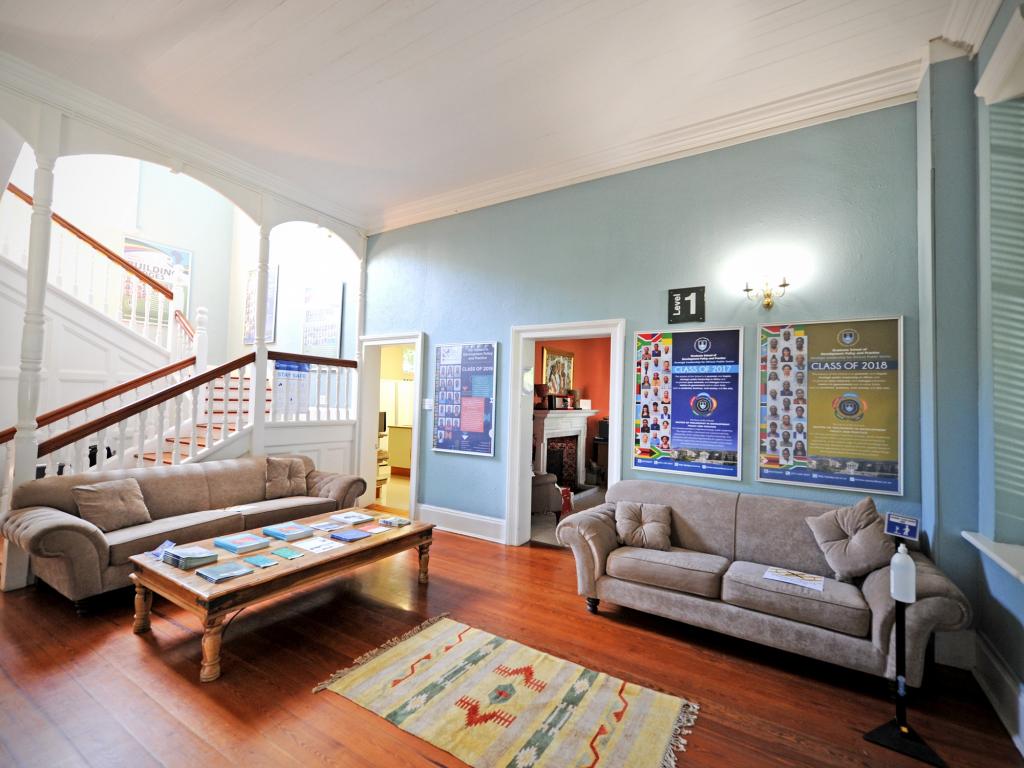 The Nelson Mandela School of Public Governance is a graduate school located at the globally recognised University of Cape Town (UCT). The School's Academic Programme aims to provide professional and academic training for African policymakers through its masters and PhD programmes.
The School's Academic Programmes are for mid-career to senior pro­fessionals committed to delivering meaningful change for the public good on the African continent. It provides a space for practitioners in the public sector, private sector, civil society, or international organisations who grapple with the distinct public policy challenges the African continent faces.
The School offers space to learn, develop skills, and network in a Pan-African environment to understand and solve uniquely African policymaking challenges. Students are invited to participate in postgraduate blended learning courses where they can also apply their skills and knowledge to contribute to solving the day-to-day policymaking challeng­es faced in the 21 st century.
The core offerings focus on cutting-edge approaches to governance and development grounded on solving implementation challenges in African policies and pro­grammes, underpinned by personal leadership development. Digitisation, the informal economy, entrepreneurship, and inno­vation are some of the areas of interest at the forefront of the programmes that students are invited to explore.
Applications for 2023 are open right now. For more information about application processes and requirements, email Ms Zikhona Sikota at zikhona.sikota@uct.ac.za
The Nelson Mandela School currently offers two academic degree programmes. The first is the professional Master of Development Policy and Practice (MDPP), offered over either one year or two years. The second is the Doctorate of Philosophy, undertaken by research only.
Applications for 2023 are open, kindly submit your application as soon as possible after starting the online application.
Handbook - 2023 Directions for Postgraduate Applicants (pdf).
How to Apply Online
This process will take you about 20 minutes to complete.
All postgraduate applications must be made online. You will need a working email address and your South African identity number, or, if you are an international applicant, your passport number.
Go to: applyonline.uct.ac.za or enter address on web browser.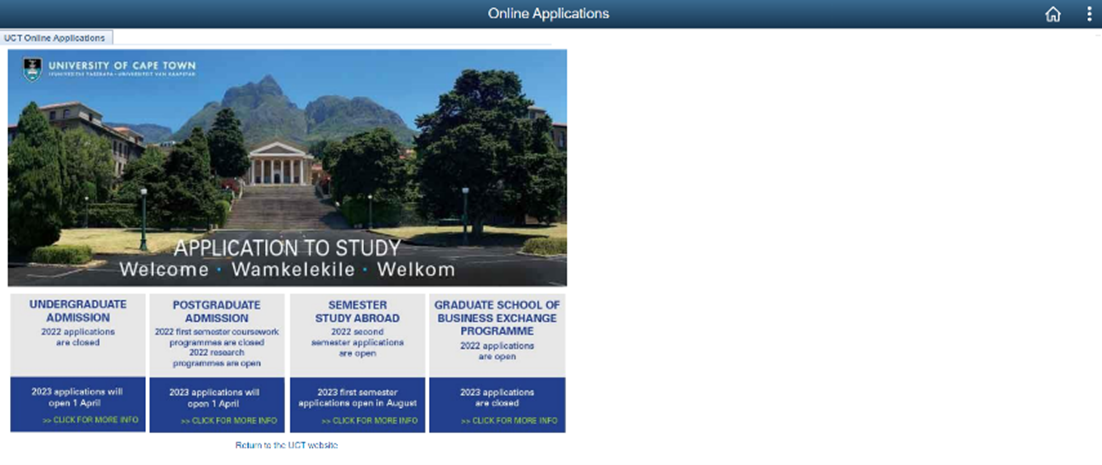 1. Select postgraduate admission

2. Select 'click here to continue'
You will be taken to a privacy notice page. Scroll down.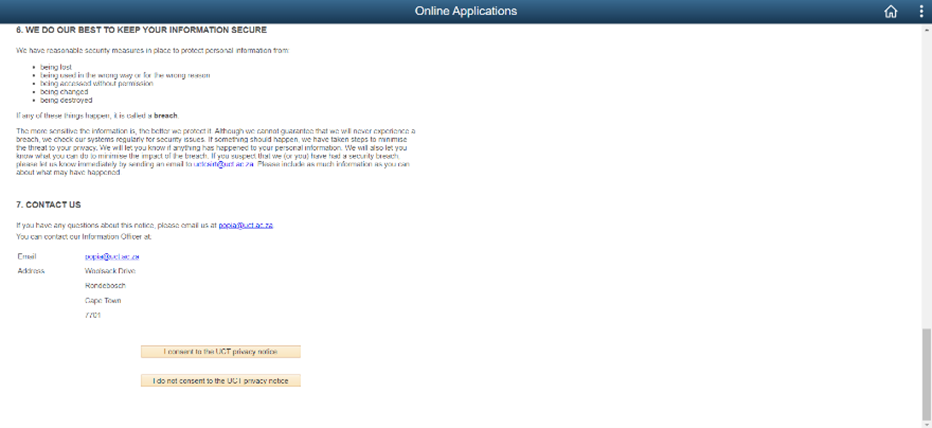 3. Select 'I consent to the UCT privacy notice' to proceed.
4. The next page will request whether you have visited the application portal or not. Select either yes or no.

5. If you have not visited the application page, you will be required to register and verify your email address. Then you can proceed to login. When you are logged in, you will be taken to 'Home' page.

6. Select 'personal details' and complete all the required fields in this tab, including uploading your ID/passport. To ensure that you have completed all the required fields, please select 'identify missing information.'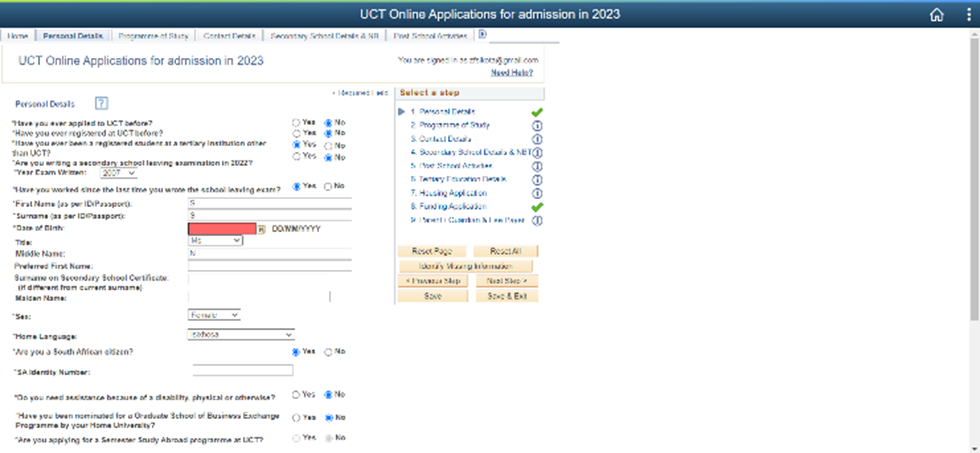 7. Then proceed to complete the 'Programme study' tab. For the programme of study, select from a list.

Continue to complete all the tabs listed on the right-hand side. Please note that, you cannot move to the next tab without completing the current one. Once all the tabs are complete and you have uploaded all the required documents, submit the application.
Once the application is processed, you should receive an email from UCT with your student number. This should take 2-3 working days.
Should you experience any difficulties with your application please contact the Admissions Office.
Postgraduate Enquiries
Email: admissions-pg@uct.ac.za
Tel: 021 650 2128
Fax: 021 650 5189